Colourpop x My Little Pony Collection: Review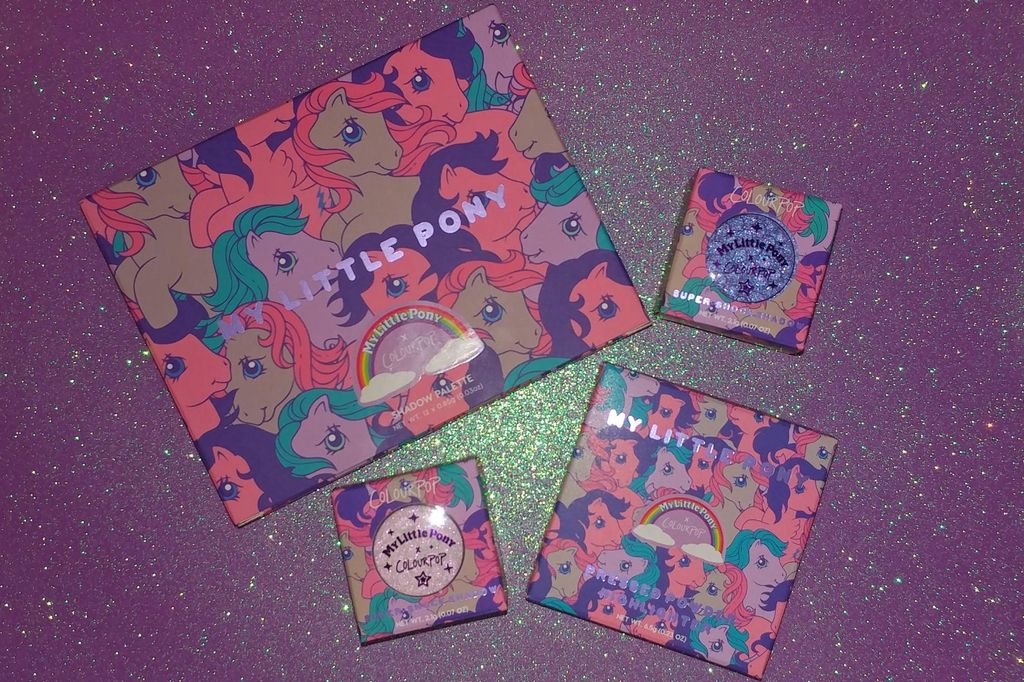 I was so excited when Colourpop announced their newest collection, Colourpop x My Little Pony! I wasn't necessarily a big fan of My Little Pony when I was younger, but I was initially drawn to how beautiful and glittery everything was! Colourpop did a really great job with the packaging, I absolutely love the unit cartons (shown above) with all of the My Little Ponies on it and reflective rainbows.
My Little Pony Palette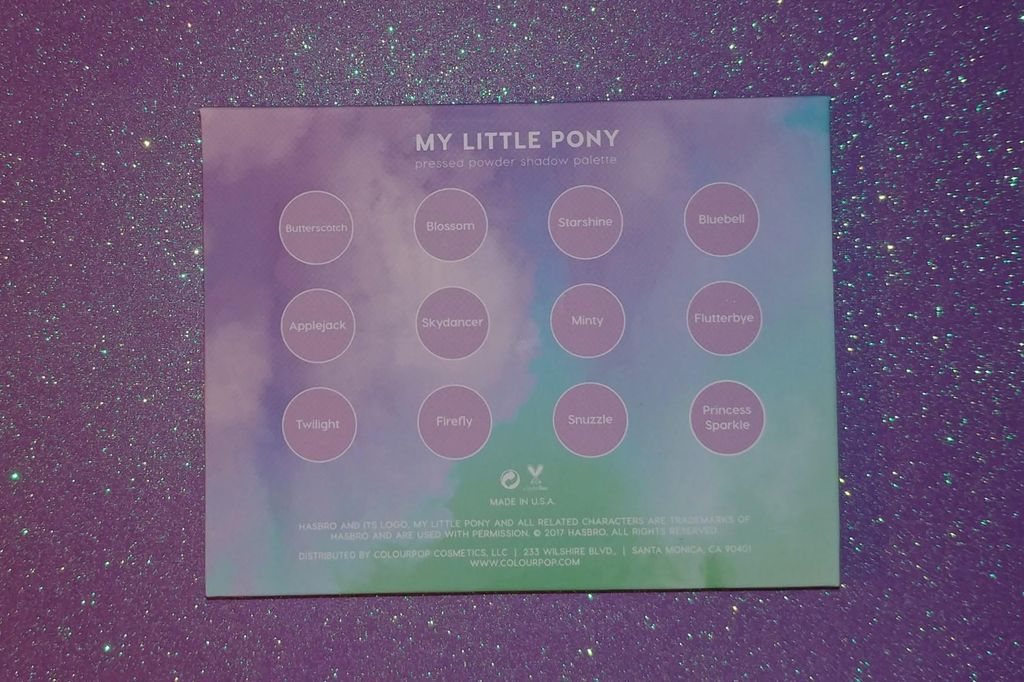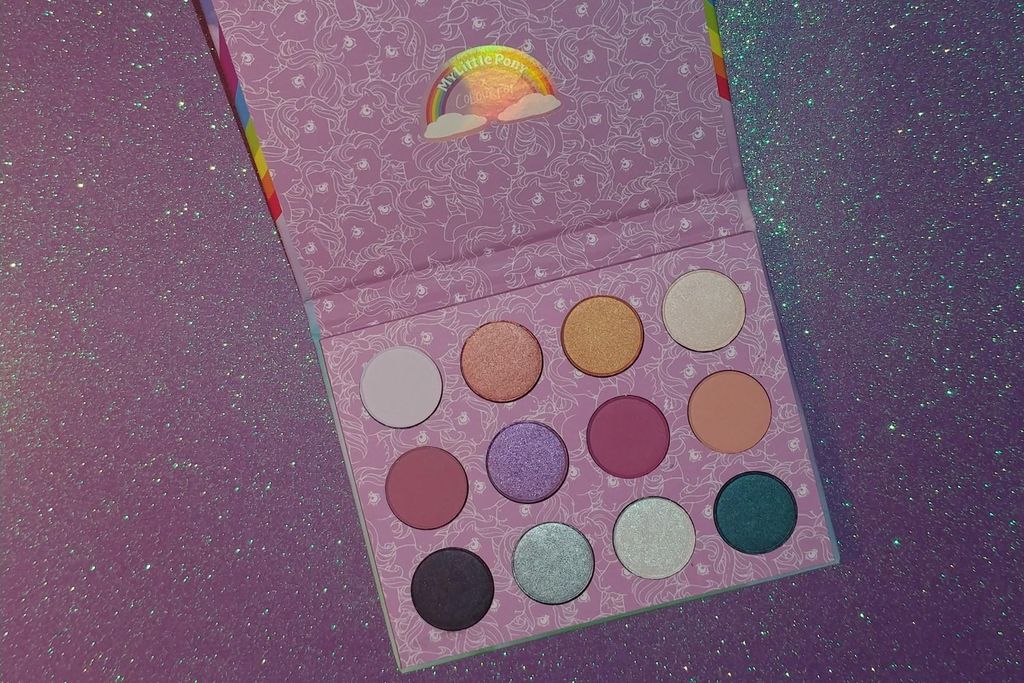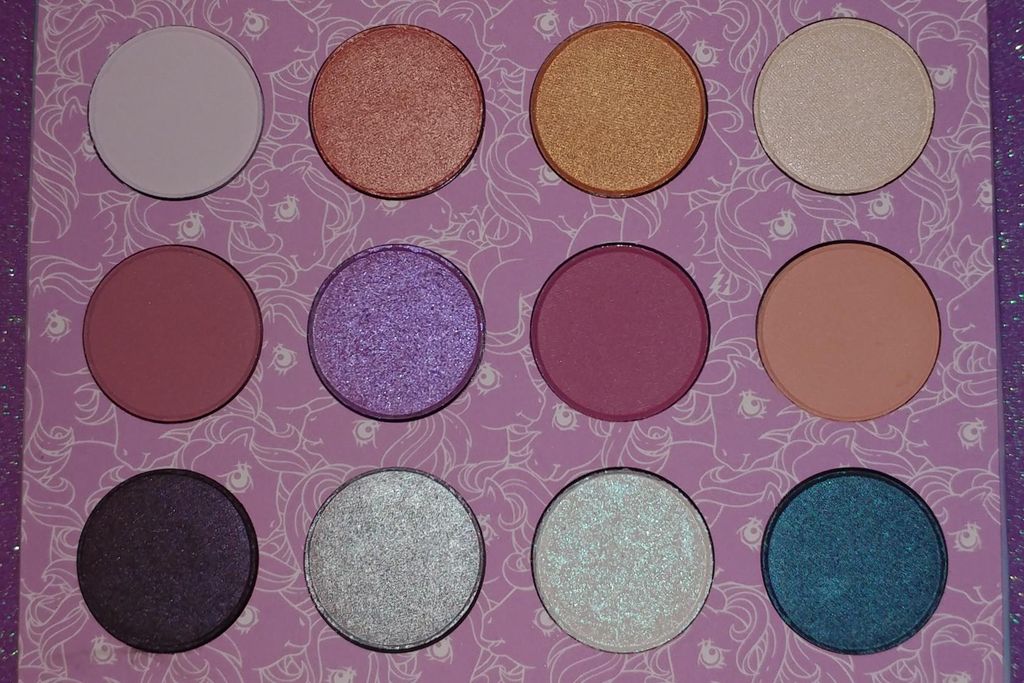 The My Little Pony 12-pan pressed powder eyeshadow palette is sold for $16, and consists of 4 matte shades and 8 shimmers/metallics. This is the fourth 12 pan pressed powder palette that Colourpop has released so far. I have tried this formula before in their "Yes, Please!" palette, which is my favorite and most used palette I own.
The color range for this palette is so unique and unlike any others I have seen. It is very colorful, but it actually is more of a muted and wearable color selection. It is perfect if you want to use colorful eyeshadows without going all the way with a full rainbow look. I still use other palettes and eyeshadows in combination with this one because there aren't really any neutral matte shades that could balance out the brighter shades.
The mattes are pigmented and blendable and they work really well as shades for the crease and lower lashline. They are the exact same formula as the mattes in the "Yes, Please!" palette, and I'm sure they have the same consistency throughout the other pressed powder palettes sold on the website.
The shimmers can be flaky, but they are still pigmented and long lasting once applied. Just be cautious of the fallout there can potentially be. I have found that they are best applied with your finger because it really shows the full pigmentation.
The shade I gravitated to first when I first used this palette is the lilac shade "Skydancer" (second shade, second row). I have found that this shade, as I have mentioned before with all the other shimmers, usually work best when applied with your finger to ensure that there will be no fallout and high pigment. It is so unique and almost worth buying this palette just for this shade!
I have been using "Bluebell" (fourth shade, first row) as a cheekbone highlight lately and it gives a very subtle glow, which is perfect for everyday use.
I was most surprised by the turquoise shade called "Princess Sparkle" (fourth shade, fourth row). I usually don't wear shades like this, but I decided to apply it on my lower lash line with a synthetic smudge brush to add a pop of color to my eye look. It was very vibrant all day long without any fading.
The worst shade is "Snuzzle" (third shade, third row) because it is completely different than all of the other shades and extremely flaky and basically just a chunky glitter that doesn't really work well with other shadows. It is a very pretty shade in the pan, but it is a completely different formula than all of the others. It applies very poorly with a brush and doesn't make much of a difference when using a finger or any other tool. I put it on the inner corner of my eye, but it fades away after only a few hours and just doesn't look right when it's on.
The only shade that is missing from this palette is a matte purple or a matte blue. The two matte pink shades, "Applejack" and "Minty", are very similar and end up looking the same once applied. Both of them are beautiful, but aren't necessarily needed.
Descriptions of each shade from Colourpop.com:
Butterscotch: white with subtle pink violet opalescent sheen
Blossom: metallic peach with pink and gold duo chrome finish
Starshine: metallic golden tangerine
Bluebell: satin golden ivory
Applejack: matte dusty red violet
Skydancer: metallic bright icy lavender
Minty: matte cool-toned fuchsia
Flutterbye: matte true pastel peach
Twilight: satin deep blackened violet
Firefly: metallic silvery baby blue
Snuzzle: metallic icy white with opalescent blue duo chrome
Princess Sparkle: metallic rich smoky turquoise
Overall, I really have enjoyed using this palette for the past few weeks and I will definitely continue to use it in the future!
Super Shock Shadows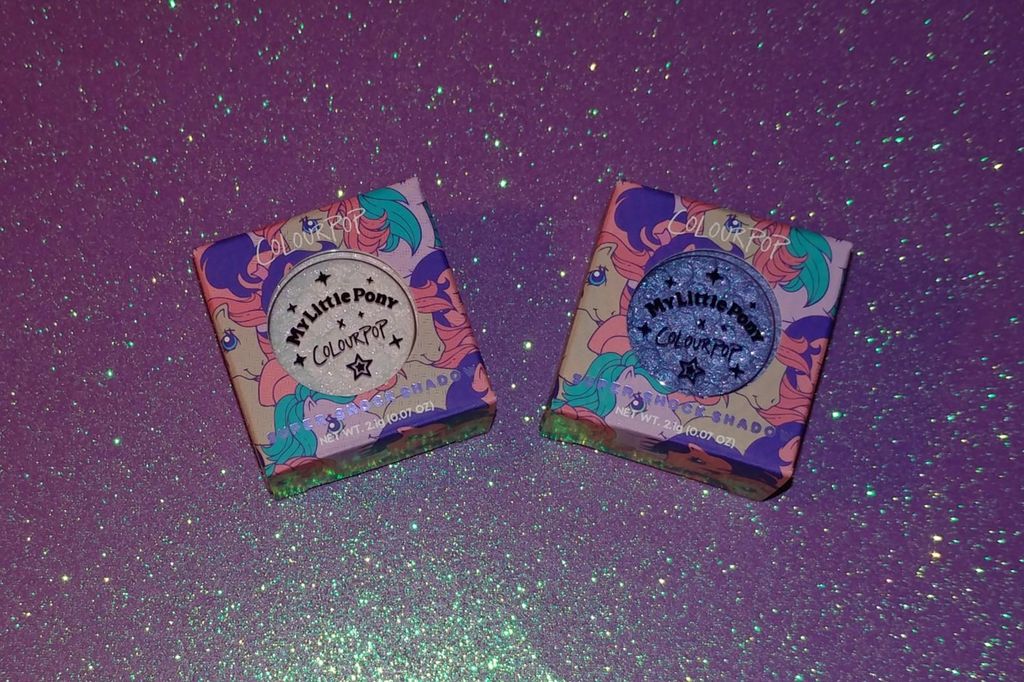 The Super Shock Shadows have been my favorite products from Colourpop for so long and they are always consistent in pigmentation and longevity. The MLP collection had three brand new shades, all with an Ultra Glitter Finish. I bought two of the three new shades, excluding the gold shade "Posey".
Instead of the normal white packaging for the other Super Shock Shadows, this collection has a really pretty lilac packaging with the logo in a reflective purple font. It goes so well with the whole theme of the collection. All of the Super Shock Shadows on Colourpop's website retail for only $5! Even if you don't try any of the shades from the MLP collection, I highly recommend you try out at least one of the other ones from the permanent Colourpop shade collection! There is one of literally every possible color, so you will surely be able to find one that suits you. The Super Shock Shadows are by far the best product Colourpop sells on their website and I use them every time I do my makeup. I usually apply all of my Super Shock Shadows with my finger, but a flat synthetic brush works too.
"Cherries Jubilee"



Cherries Jubilee is described on Colourpop.com as "an opalescent pink with hot pink glitter". In the pan it looks like it is just a white eyeshadow, but in the light it's actually a duo chrome pink color with flecks of glitter. I tried my best to capture how beautiful and unique this shade is in person with the pictures above!
This shade looks great as an inner corner highlight shade and when put on top of one of the matte pink shades from the palette. I personally don't like to just wear it alone on the eyelids because it is very sheer, but it looks best when layered to get the full opalescent effect.
I have also used it as a highlighter before and it looks really pretty on the cheekbones when it catches the light.
"Sunbeam"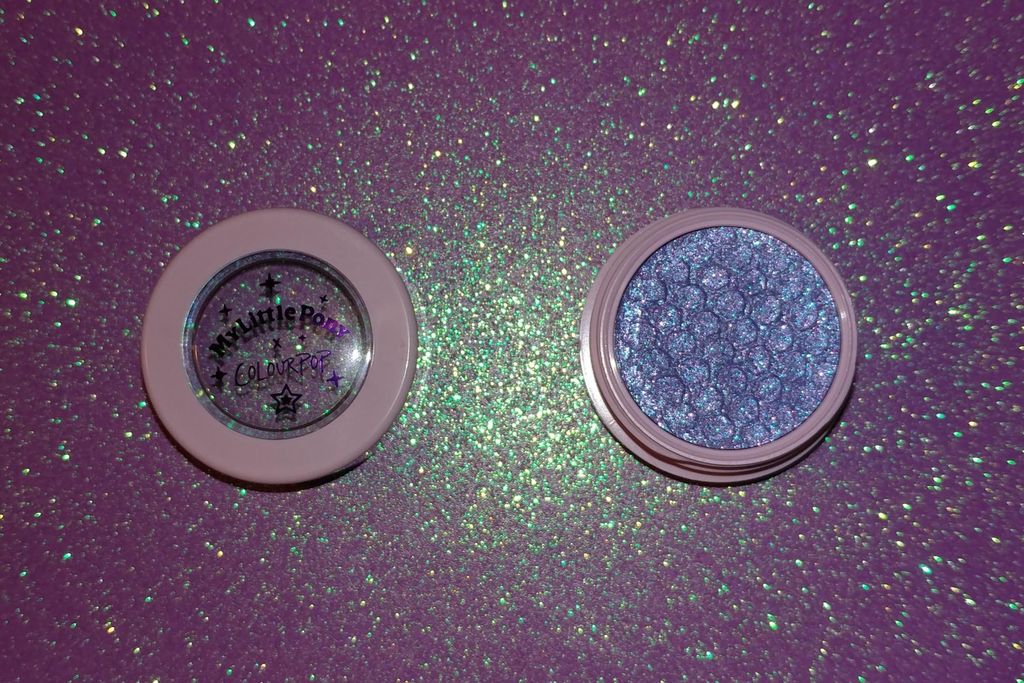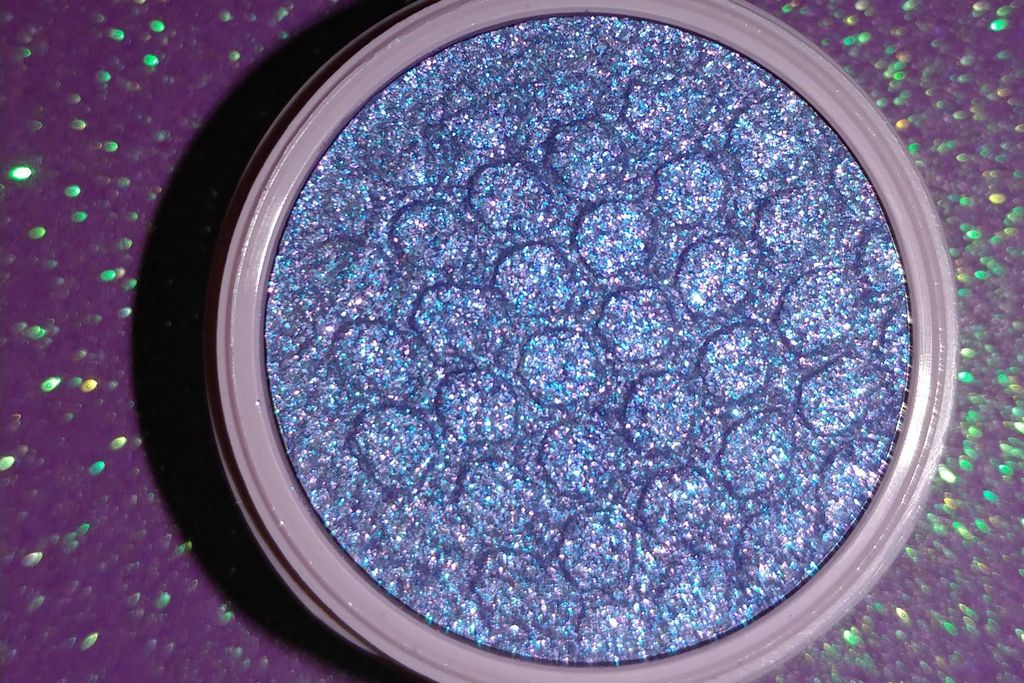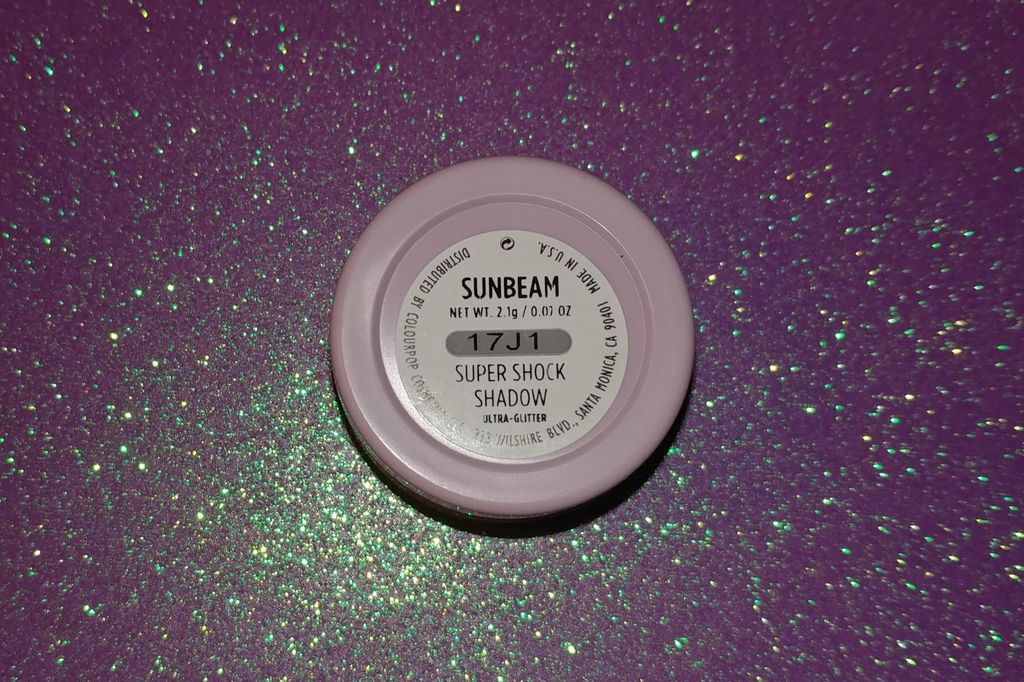 "Sunbeam" is described on Colourpop.com as "pastel lavender drenched with violet, hot pink and ice blue glitter". This is the shade that initially caught my eye to this collection, since it is unlike any other eyeshadow shade I have ever seen.
This shade looks so beautiful on the lids and the different colors of glitter really pop and give it a very beautiful sparkly look.
I have not experienced much fallout with it (no more than any other glitter eyeshadow I have used before) and the pigmentation and glitter stays vibrant all day. If you are careful while applying or do your eye makeup first, then fallout shouldn't be a problem. I love to pair it with the lilac shade called "Skydancer" from the palette.
If I had to choose, I would say that "Sunbeam" is my favorite item I purchased from this collection and unlike anything own. I will surely be getting a lot of use out of this shade in the future.
Pressed Powder Highlighter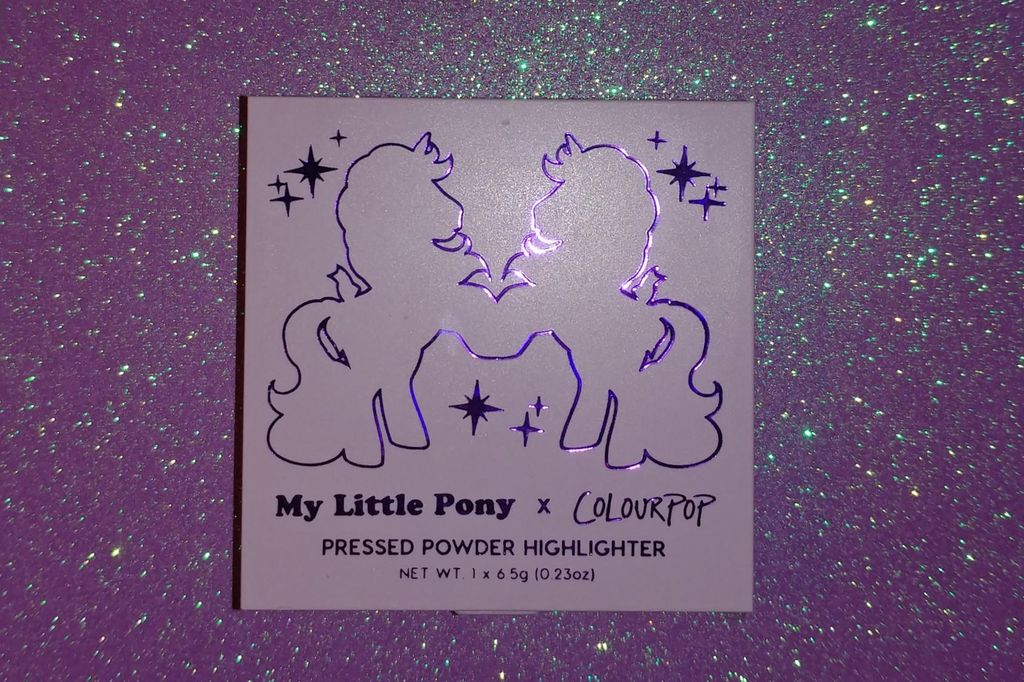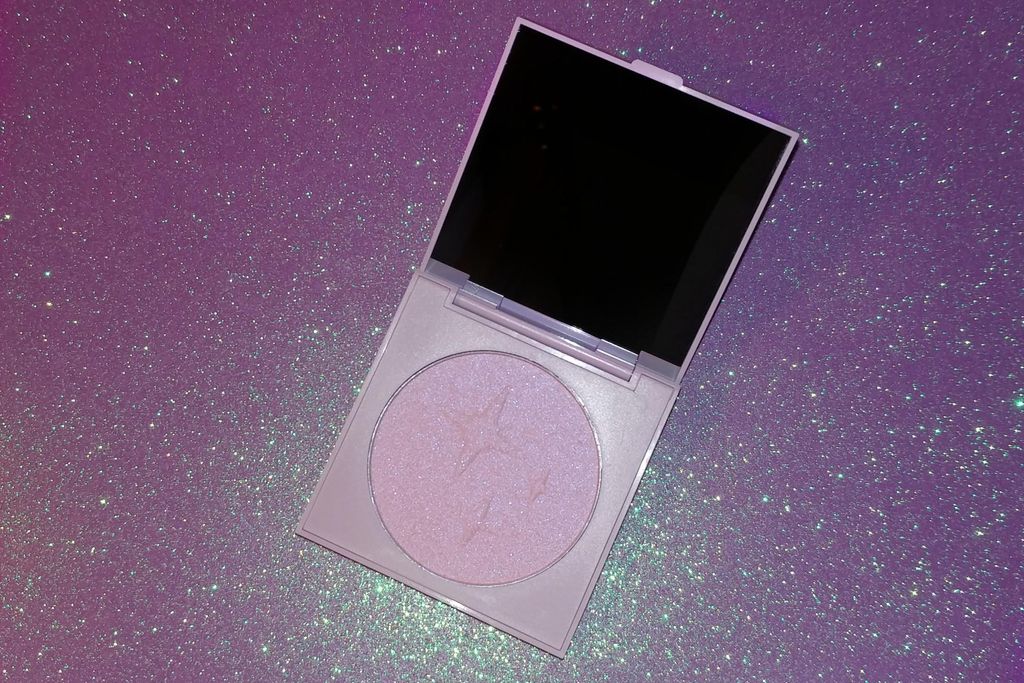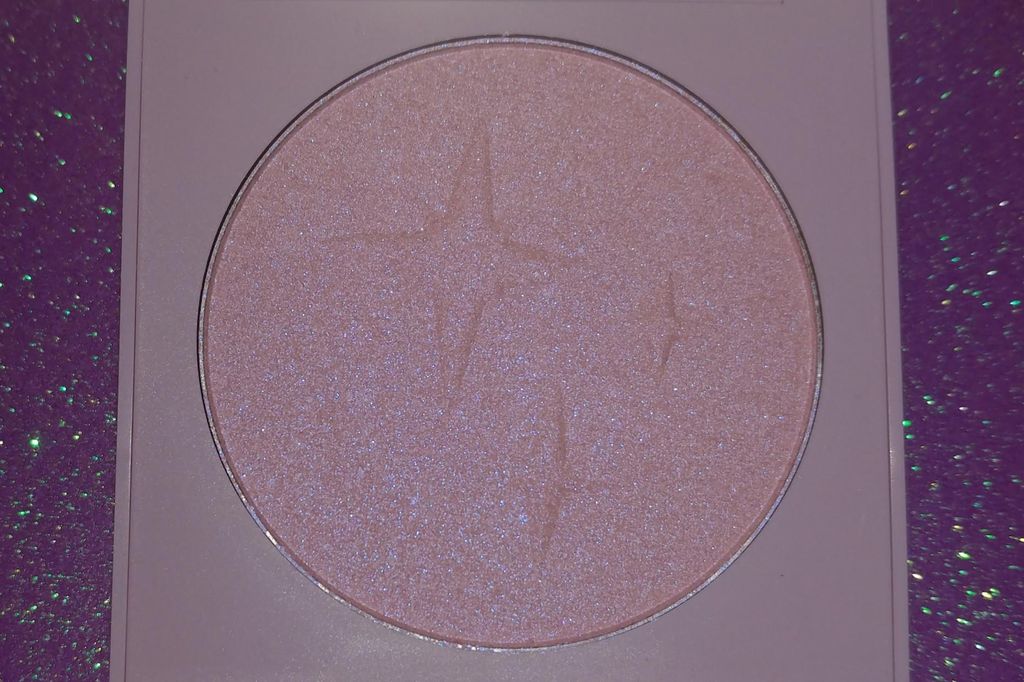 The MLP collection also has two new Pressed Powder Highlighter shades called "Trickles" and "Starflower". I bought the shade "Trickles" which is described on Colourpop.com as a "lavender with pink opal duo chrome flip with a satin finish"..
This is the first pressed powder face product I have ever tried from Colourpop, and I am overall very impressed with it! The color in the pan is sort of misleading, since it looks like it would be a pale pink glitter shade, but on the skin it is more of a darker purple shade with blue and purple glitter. In my opinion, it is still a wearable shade and doesn't look too crazy on the face. There is visible flecks of glitter once applied, which I personally don't mind, but that might be a turn-off if you don't like glittery highlighters. It is described as a satin finish highlighter, but it really should've been called a metallic or glitter finish.
The other shade, "Sunflower" is a golden peach color, which probably wouldn't have went well with my skin tone, but if you have a darker skin tone, you would probably like that one more!
The packaging is the same lilac color as the Super Shock Shadows, with a My Little Pony and Colourpop logos embedded in a reflective purple print. The highlighters are the same size as the other pressed powder face products sold by Colourpop, and the pan can actually be removed from the packaging and be replaced with any other pressed powder face product from the line. I love that this product comes with a mirror and it is definitely very convenient to use when applying.
This is a very on-trend shade right now, so if you are looking to experiment with fun highlighter colors, then Colourpop is the way to go.
Also, i
f you prefer to use cream highlighters, I would recommend trying out the Super Shock Highlighters. I love to use a shade called "Hippo", but it is a more subtle and icy lilac shade without any glitter.
The other items in the new collection that I didn't buy include; 3 Ultra Matte Liquid Lipsticks, 3 Ultra Glossy Lips, a travel brush set, and a makeup bag. None of these items really appealed to me, but I have tried the Ultra Matte Liquid Lipsticks before, and they are very long lasting, but can also be drying on the lips. I prefer the Ultra Satin Liquid Lipstick formula over the Ultra Matte because it is just a long lasting, but much more comfortable.
Overall, the Colourpop x My Little Pony collection is very unique and perfect for anyone wanting to experiment with different colors at an affordable price. The whole collection is just so cute and if you are into the nostalgic aspect of this collection, then it is definitely worth trying out!
Comment below if you have tried anything from the Colourpop x My Little Pony collection and let me know what you thought of them! Thank you so much for checking out my blog and come back soon for more posts!