Colourpop "Yes, Please!" Palette: Review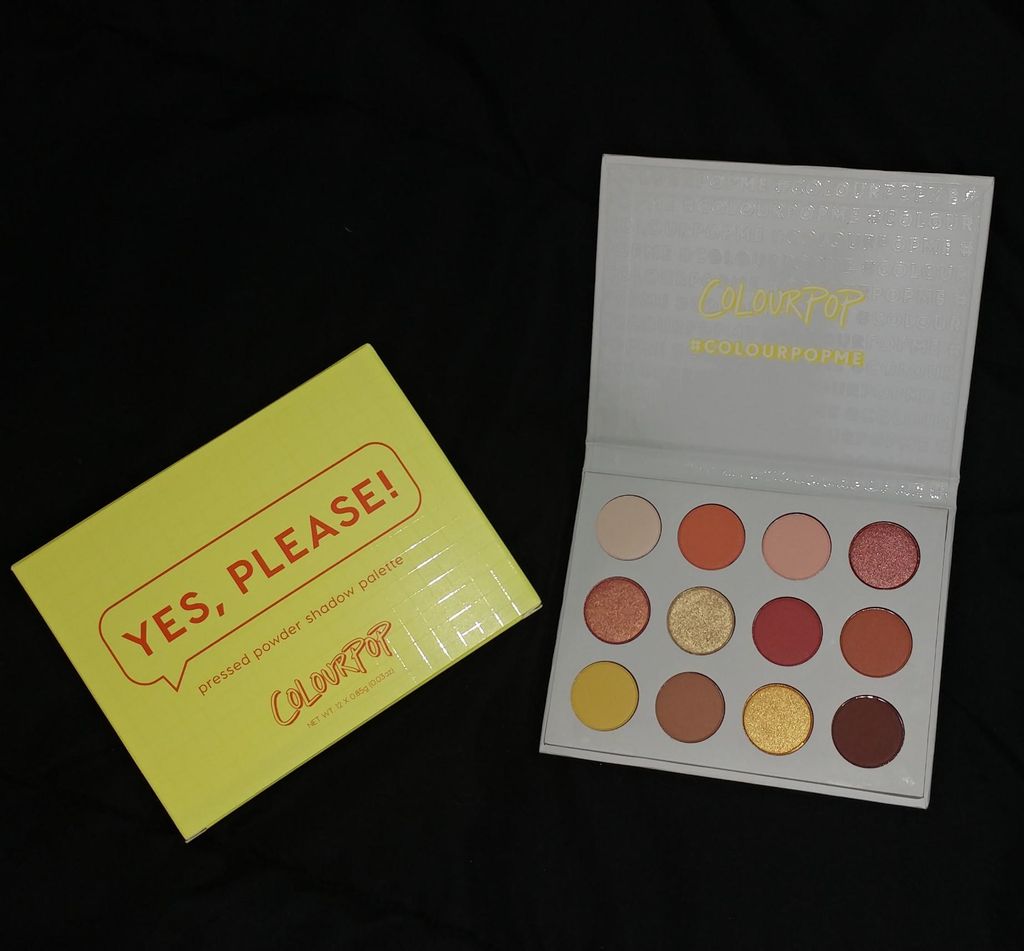 Colourpop has constantly been coming out with new products this summer and I was so excited when they announced they would be coming out with the brand's first 12-pan pressed powder eyeshadow palette. It may seem that the beauty market is oversaturated with warm toned shadows, from the Anastasia Beverly Hills "Modern Renaissance" to the new Urban Decay "Naked Heat" palettes, however there aren't many options for those not willing to spend $50 on just one eyeshadow palette.
"Yes, Please!" retails for $16, which makes each shadow roughly cost $1.30 each. This is a great deal for eyeshadows that have the same quality, or even better, of high-end brands. Colourpop released single-pan pressed eyeshadows a few months ago, which retail for $5 each but have more product in it at 1.5g compared to the 12-pan size of .85g.
All of the shades are very pigmented and blendable with vibrant color payoff. 8 of the shadows are a matte finish and 4 are shimmer/metallic finish. All of the shades are consistent in pigmentation and are very creamy with little to no fallout. With this shade selection you are able to create a wide assortment of different warm toned eye looks without using any other palettes. All of the shades are exclusive and brand new, meaning they are not sold separately in single pans.
Names & Descriptions of each shade according to Colourpop.com:
Full-Zip: matte warm ivory
Big Cocktails: matte orange
Champs: matte pale peachy nude
Bling: metallic rust
Louie: metallic duochrome red with a gold flip
Butter Cake: metallic pale yellow gold
Spoiled: matte brick red
GNO: matte burnt orange
Mischief: matte warm yellow
Note to Self: matte warm caramel
Chauffeur: metallic duochrome bright orange with a gold flip
French Kiss: matte deep red brown
The shadows last most of the day on bare lids, but can sometimes crease after a few hours. I found that layering the powder on top of one of Colourpop's Super Shock Shadow's called "Brady" makes a nice base for all of the colors and makes it last all day. "Brady" is described as a "soft matte dusty rose" in the description on their website. If you don't prefer to use powder eyeshadows, I definitely recommend trying the Super Shock Shadows, as they last all day and look beautiful all over the lid.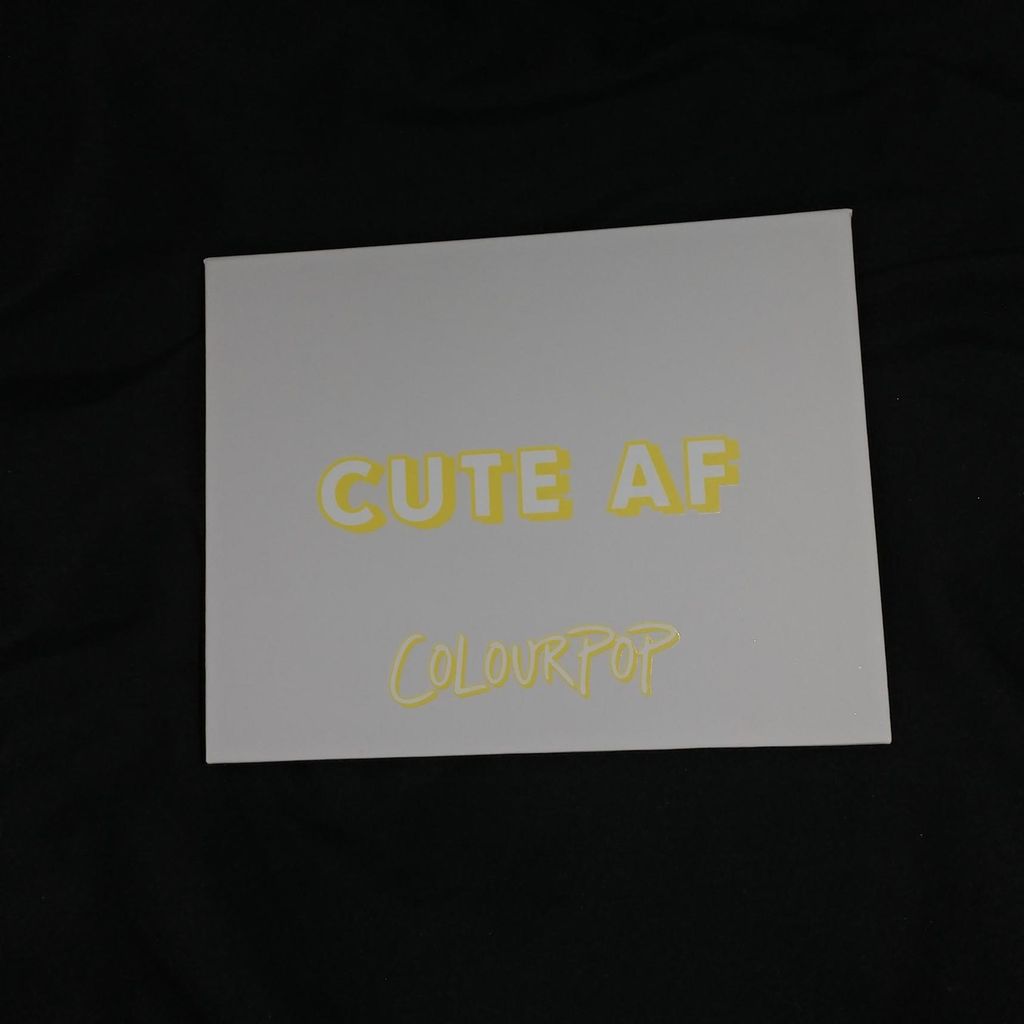 The front of the palette says "CUTE AF" with the Colourpop logo under in a bright yellow font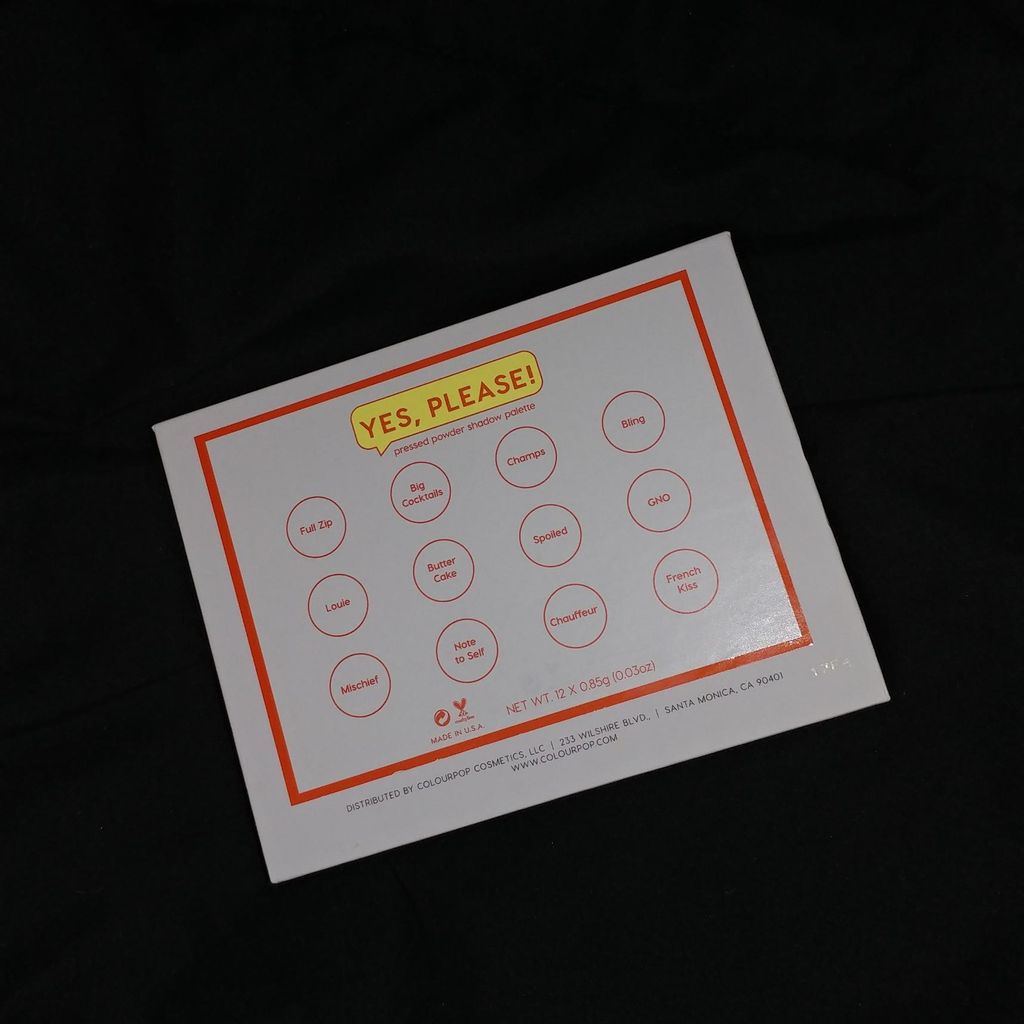 The back of the palette has all of the shade names in circles to represent the corresponding shadows inside
The "Yes, Please!" palette first went on sale at the end of June along with the release of Colourpop's first ever pressed powder highlighting palette called "Gimmie More!". I was on the website the second it went on sale that morning, but it was already sold out before I could even enter the credit card information! Thankfully I was able to get it on the next restock a few weeks later, but even then it sold out in 10 minutes! They have done more restocks since then, so check their website and twitter account for updates.
I have heard many comparisons of this palette to the Natasha Denona "Sunset Eyeshadow Palette" which is sold at Sephora for a whopping $129. I have never seen the Natasha Denona version in person, but from the many comparison videos I have seen in recent weeks to these two products, many beauty influencers believe that "Yes, Please!" is very similar not only shade wise but also in quality to the Natasha Denona "Sunset Eyeshadow Palette".
Check out Kathleen Lights' review and comparison video
here
Natasha Denona's "Sunset Eyeshadow Palette" from Sephora.com
Colourpop has had many new releases this summer alone with brand new products, from concealer, nail polish, lip balms, setting sprays, brushes, and more pressed powder palettes, all of which I'm excited to try out sometime soon!
Comment below if you have tried any of Colourpop's new summer releases and let me know your thoughts! Thank you so much for checking out my blog and come back soon for more!