The Grammy Museum Los Angeles: August 2017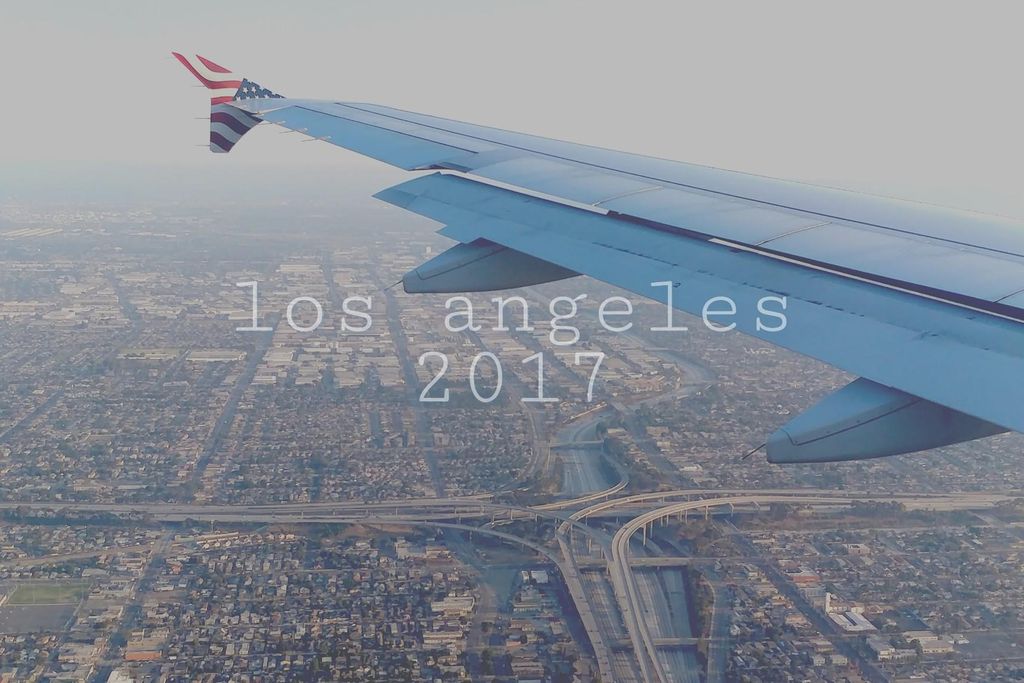 Los Angeles has been the number one place I have wanted to visit for years and I was so happy I finally got to go to celebrate my 18th birthday and high school graduation. It was so surreal to actually be in Los Angeles and see all of these iconic places I have only ever seen pictures of before. It felt like I've been there before without ever actually being there, a feeling I have never had before when going to a new place. The trip was nothing less of amazing and I loved every second of it.
Newark, NJ → Los Angeles, CA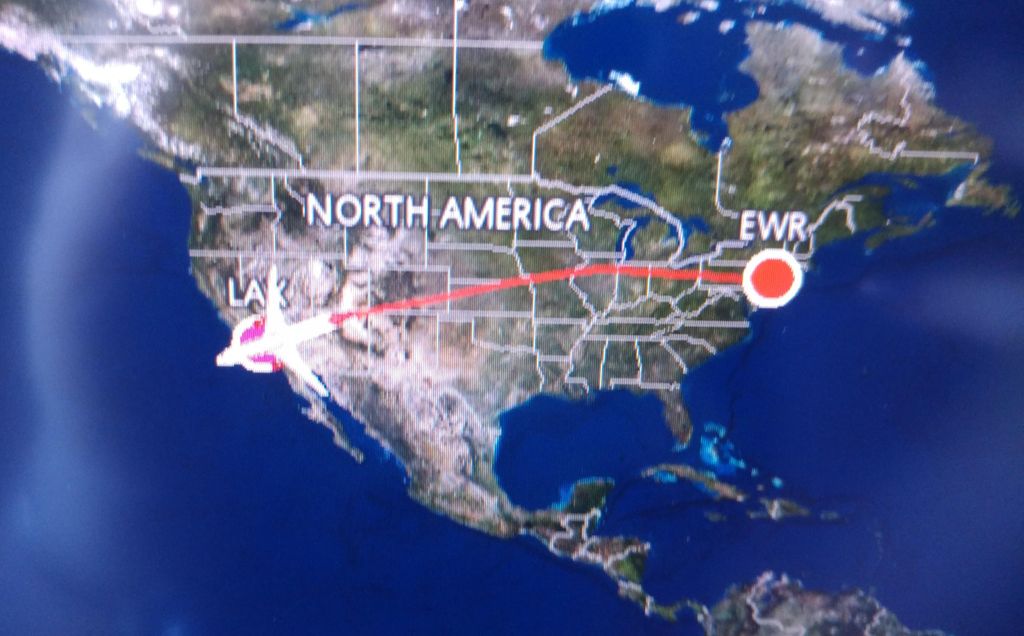 It felt so unreal to be landing at LAX after a 6 hour flight across the country. I couldn't believe all of my dreams were coming true in that moment.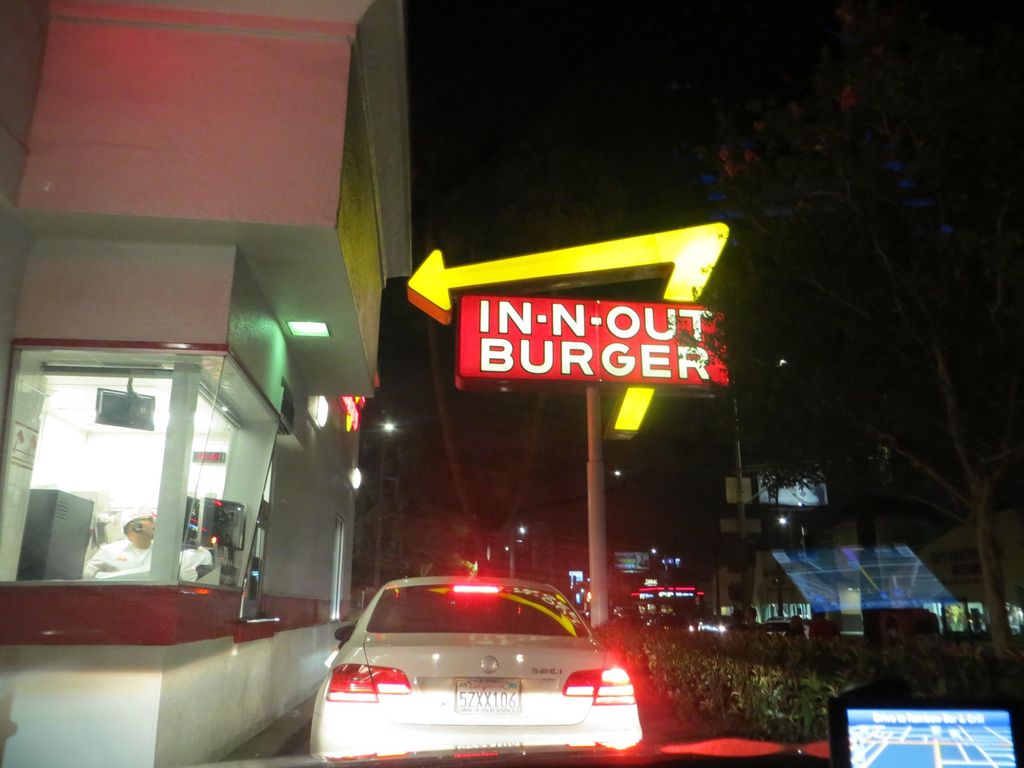 Once we got the bags and the rental car, it was already pretty late at night. the first thing we decided to do was go to the iconic West Coast fast-food chain, In-N-Out Burger. With it being our first time on the West Coast, it was basically a no-brainer that we had to try In-N-Out first! I ordered the grilled cheese and animal style fries from the secret menu, both of which were great!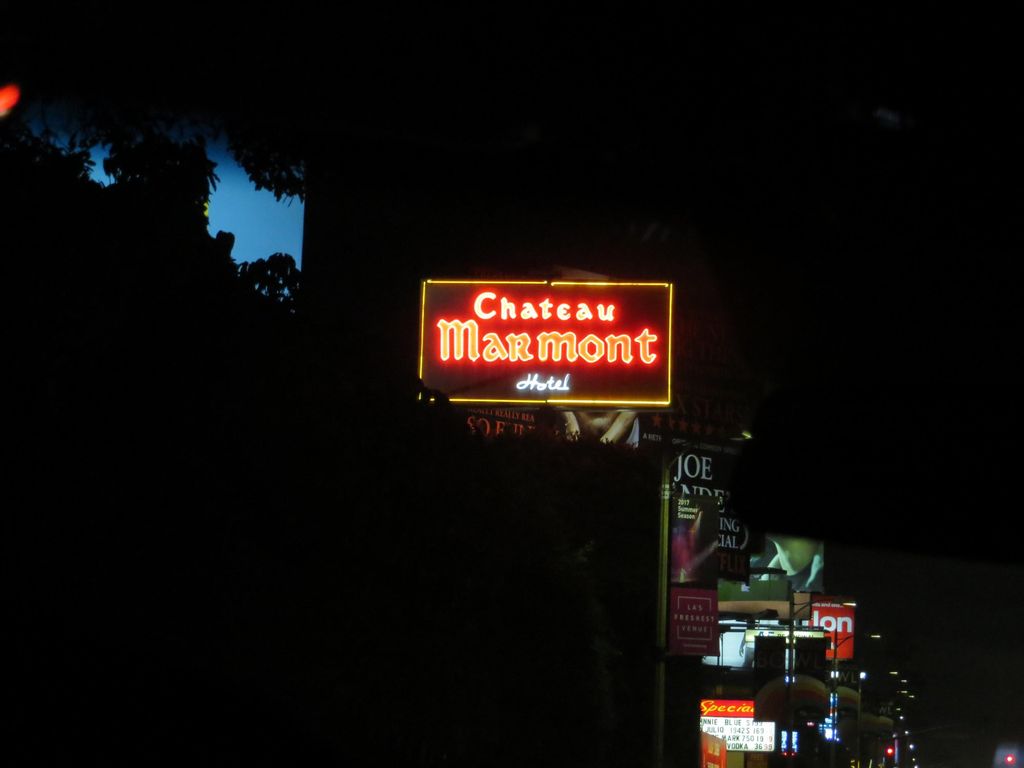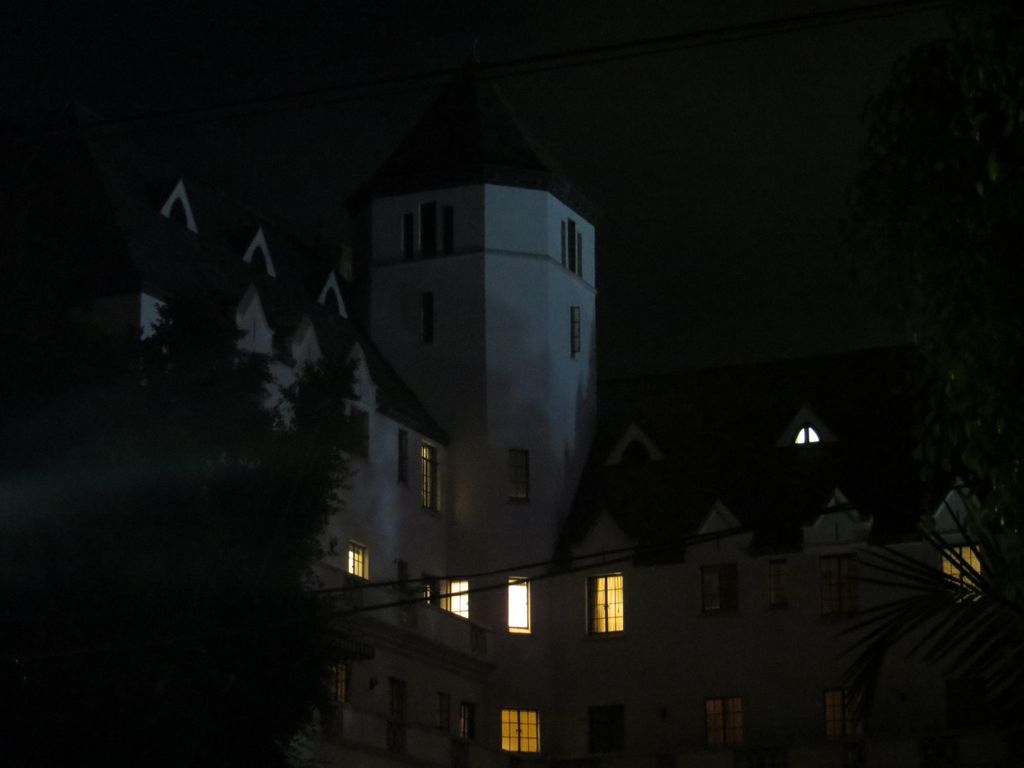 When we were driving down Sunset Boulevard to get to In-N-Out, it didn't even feel real, it was like something out of a movie. We drove past so many different places that you would never even think of seeing in person, like Kat Von D's tattoo shop, or the Chateau Marmont (pictured above). The houses in the Hollywood Hills, behind the Chateau were also so beautiful.
Everything that night especially was so exciting and new to us.
Downtown L.A.
Downtown is a really central area to stay in L.A. since it is fairly close to every place you would need to go, depending on traffic. We stayed at the Omni in Downtown, which was in a nice area, but a few blocks down it can get pretty rough, so be cautious of that if planning to stay somewhere in the downtown area.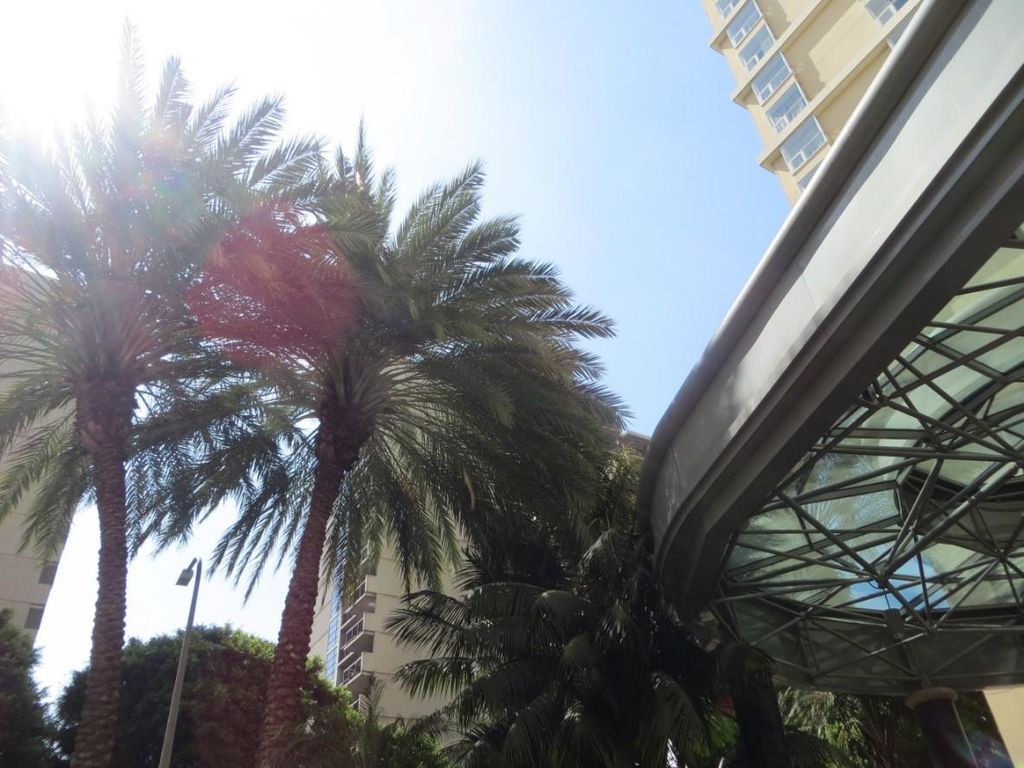 View from the valet area of the Omni Hotel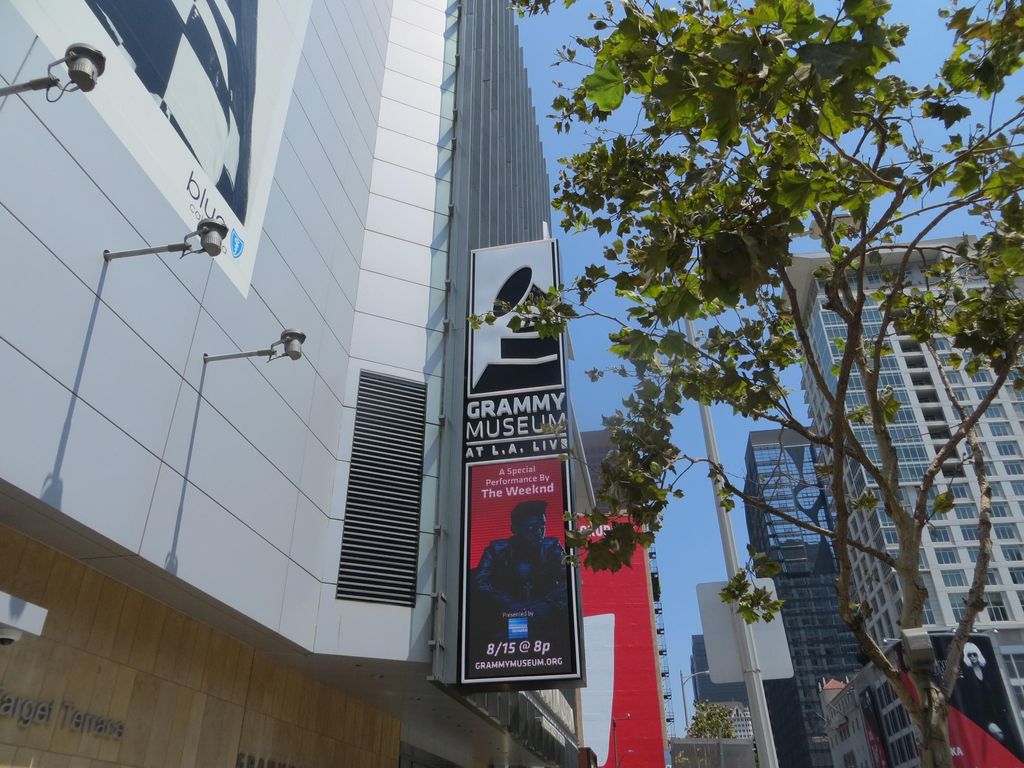 On our first full day in Los Angeles, my family and I went to Downtown L.A. to check out the Grammy Museum. This is my first time going to one of the Grammy Museums, besides "The Taylor Swift Experience" travelling exhibit that came to the Seaport in NYC last year. The Grammy's are always one of my favorite award shows to watch every year and it was so surreal to see a lot of the iconic outfits, instruments, props, and awards that I only ever saw on TV throughout the years.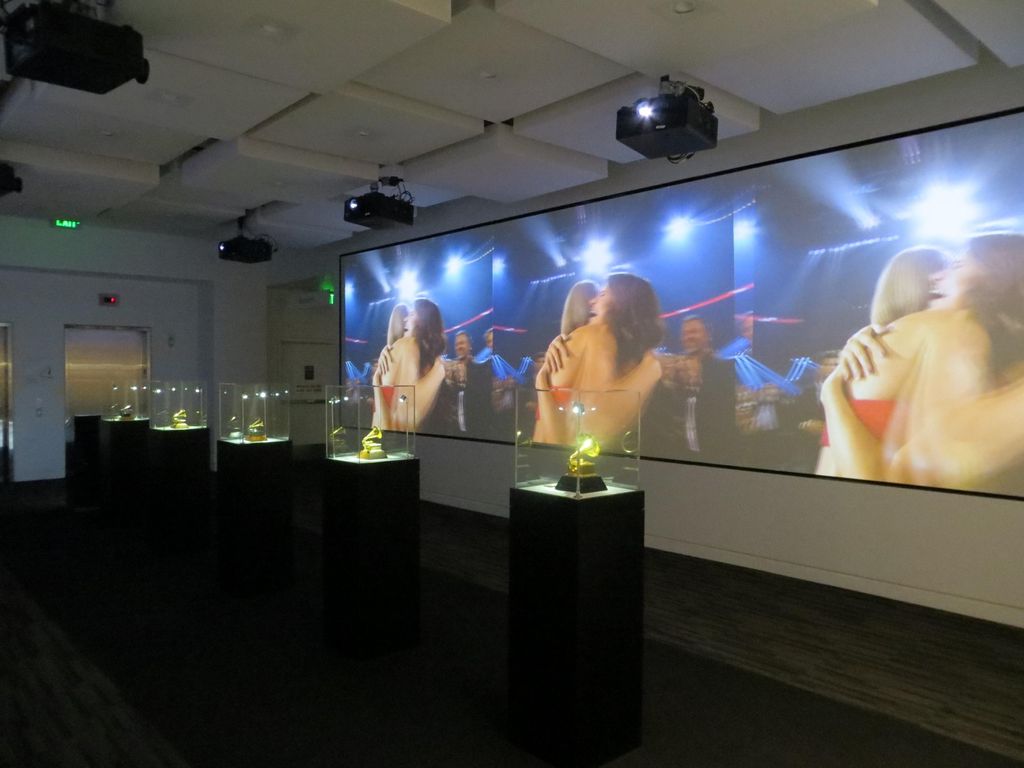 When you go up to the first room of the exhibit, there is a display of all of the different models of the Grammy Award throughout the years. On both sides of the wall, there is a projection of some acceptance speeches by past winners. In the photo above is Taylor Swift and Selena Gomez hugging when Taylor won "Album of the Year" at the 2016 show.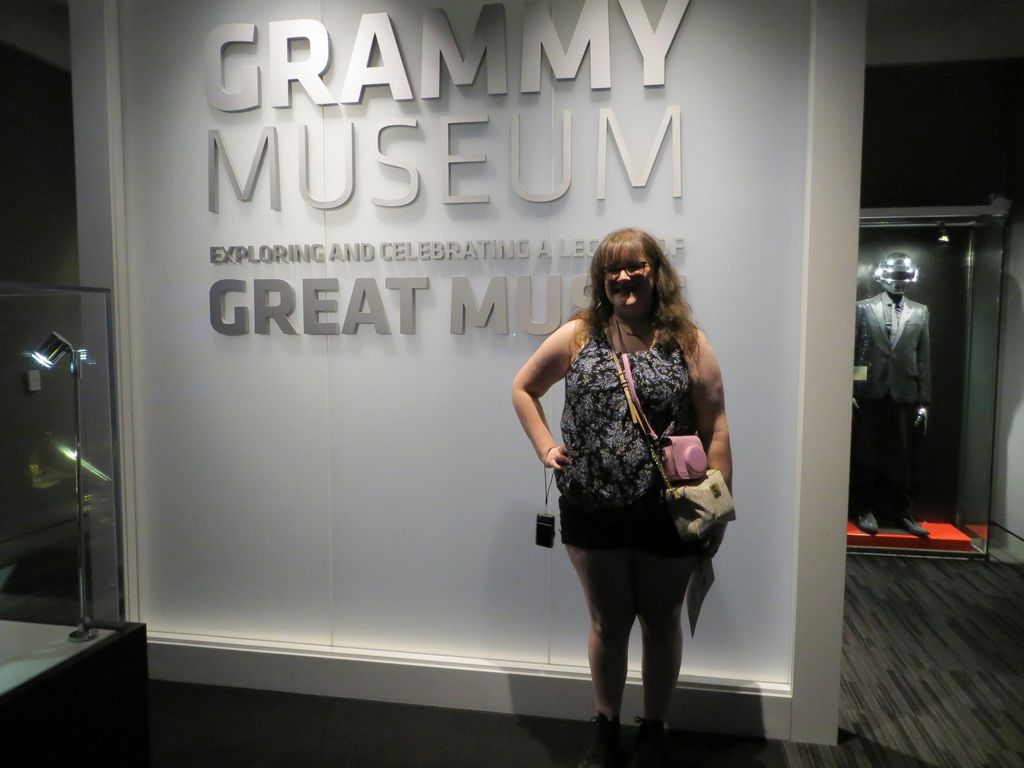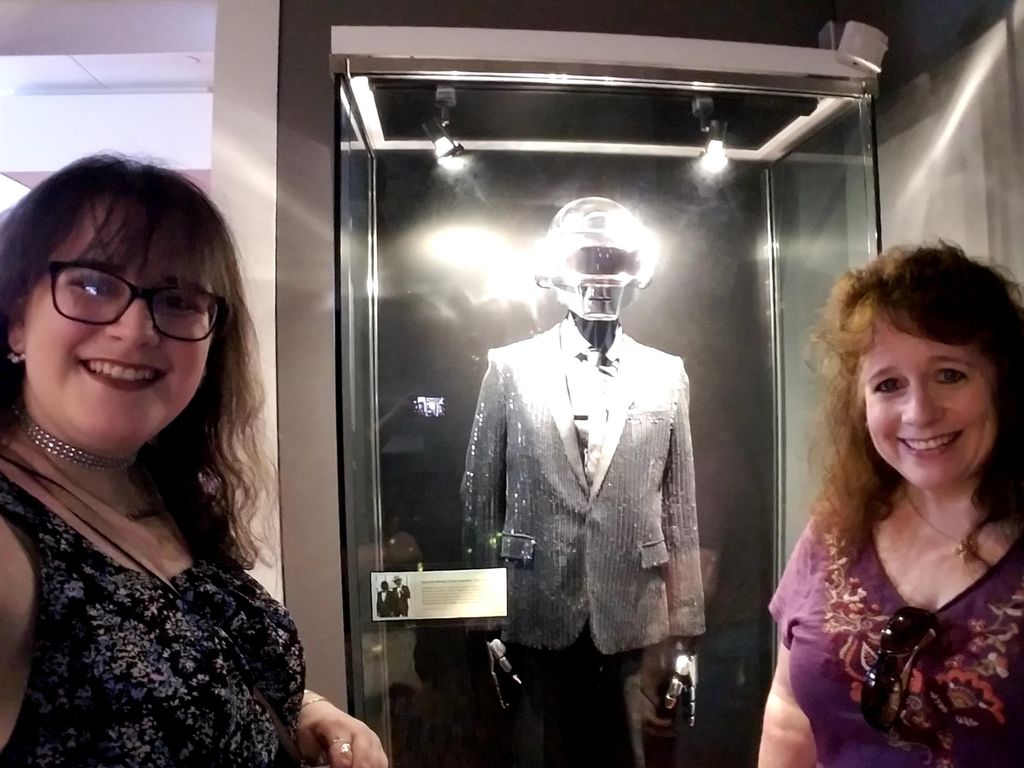 In the same room, there was also Daft Punk's helmets and suits that they wore on the red carpet in 2014.
Beyoncé's black dress that she wore during her 2015 performance at Stevie Wonder's Grammy tribute concert. That night, she was joined onstage with Ed Sheeran and Gary Clark Jr.
*credit to owner for Beyoncé performance image. Source: eonline.com*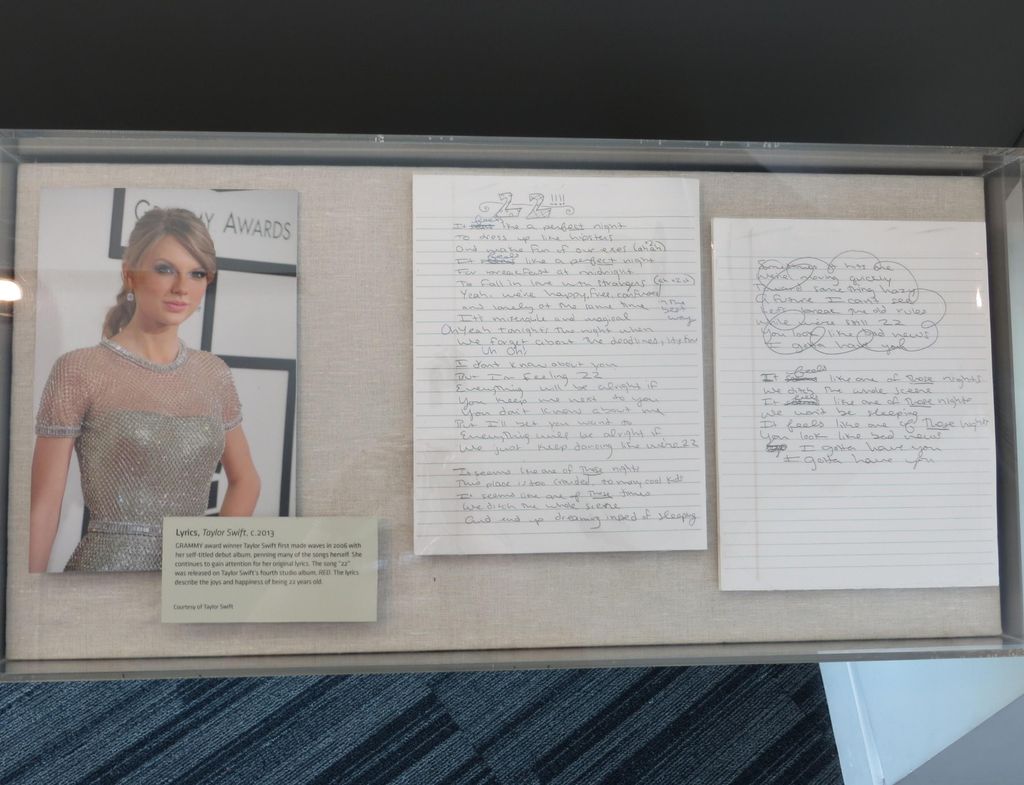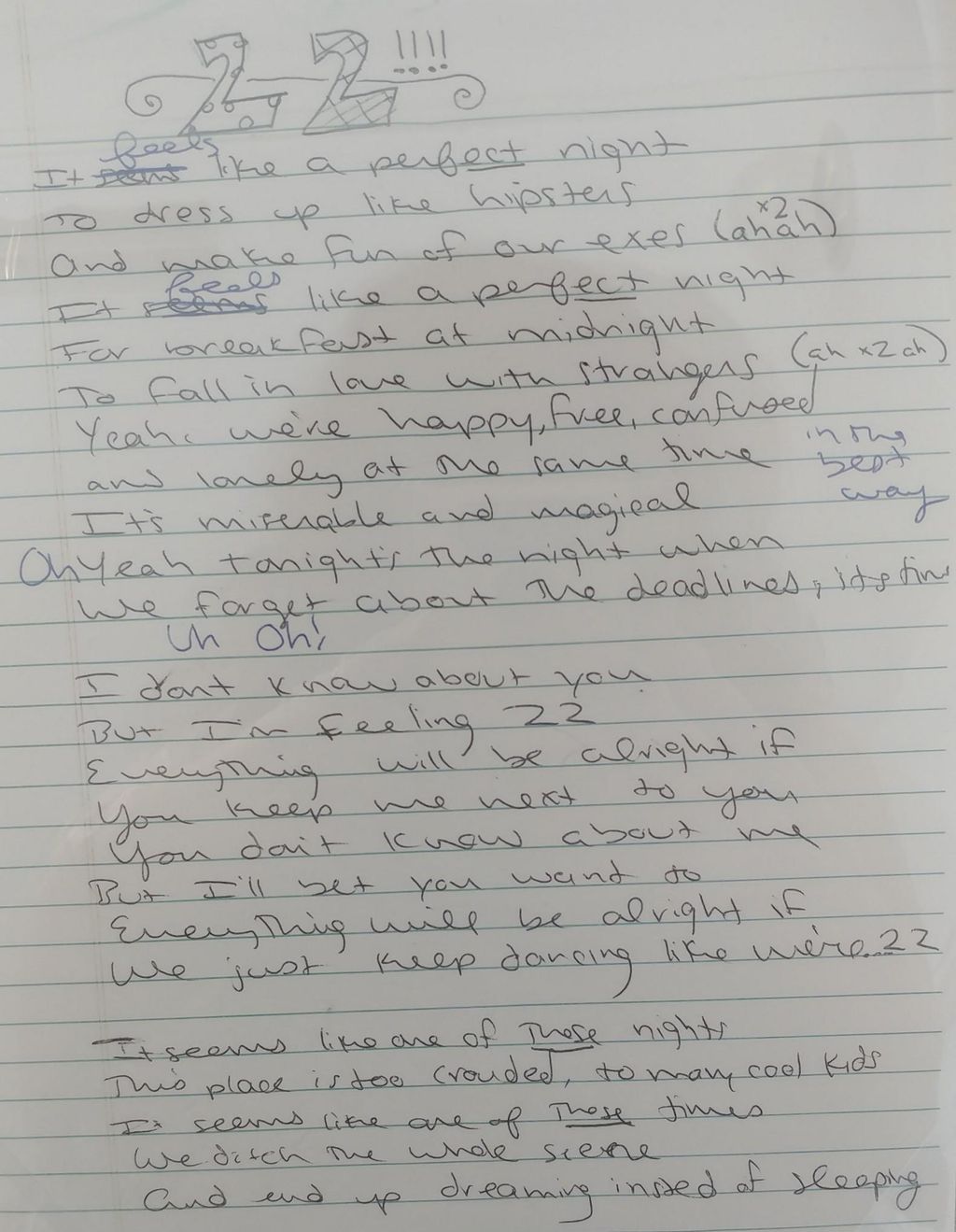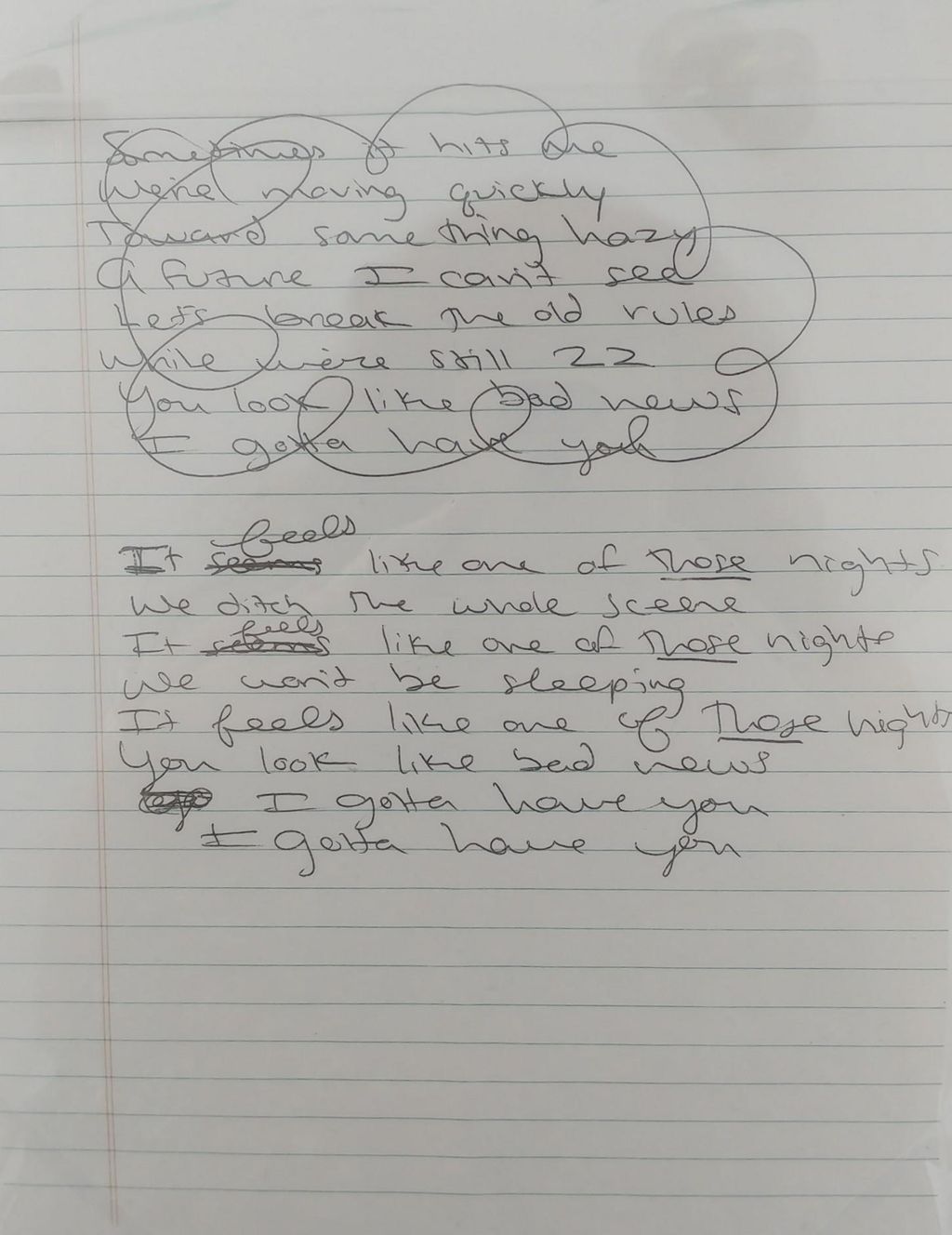 In a display case there was the original handwritten lyrics to one of Taylor Swift's biggest songs, "22". I have actually seen this before at The Taylor Swift Experience exhibit, which makes me think that the one in L.A. was a replica copy, but it is hard to tell. it might be a revised copy of the original because if you look closely, there is blue ink marks on some of the verses on the first page in her handwriting.
To my surprise, this was the only Taylor Swift piece of memorabilia at this location. I was expecting to see some of her iconic red carpet or performance outfits, but most of them are in the travelling exhibit. The Taylor Swift Experience was at this Downtown L.A. location from 2014-2016. It is being shown at the L.A. County Fair I Pomona County, California in September 2017.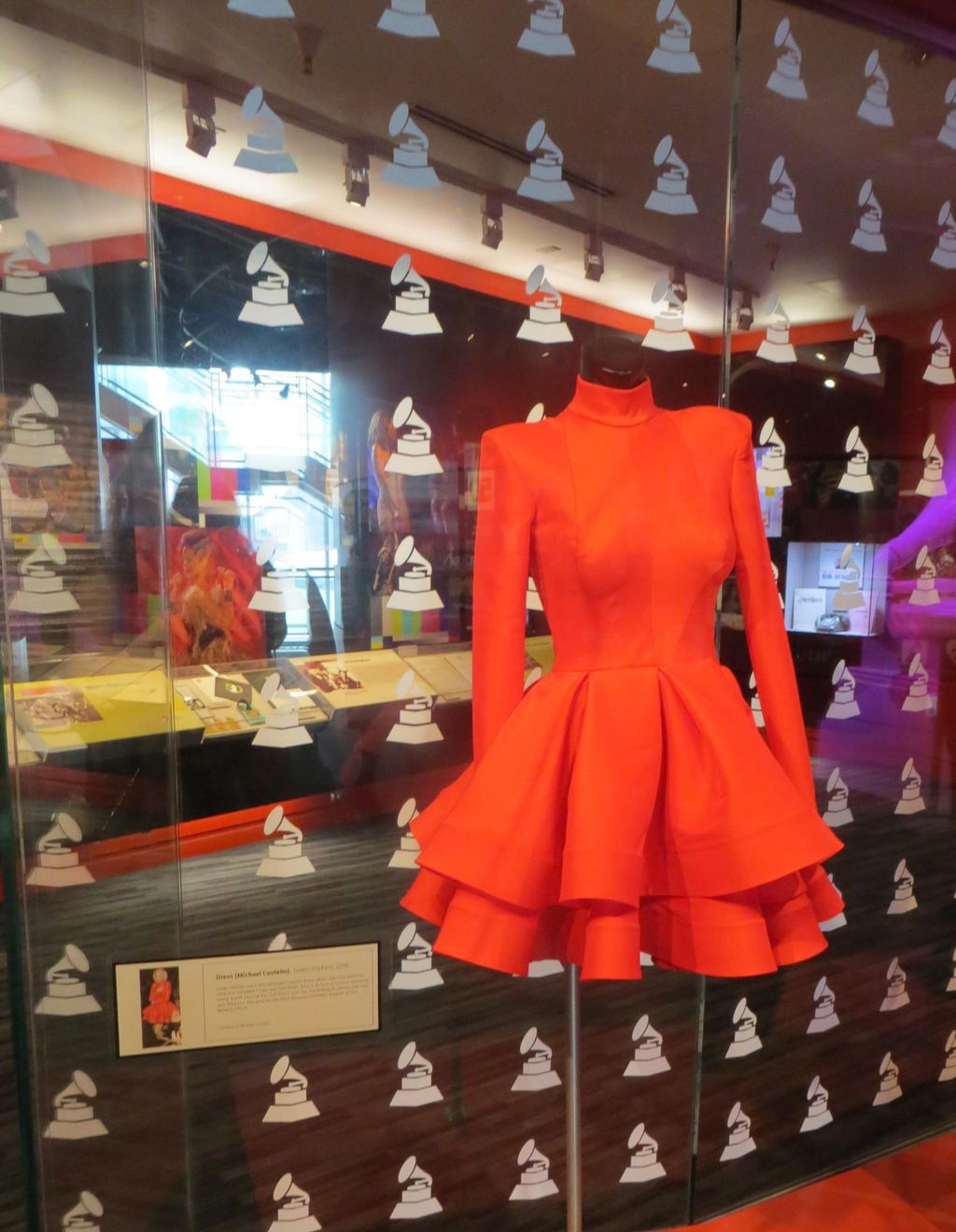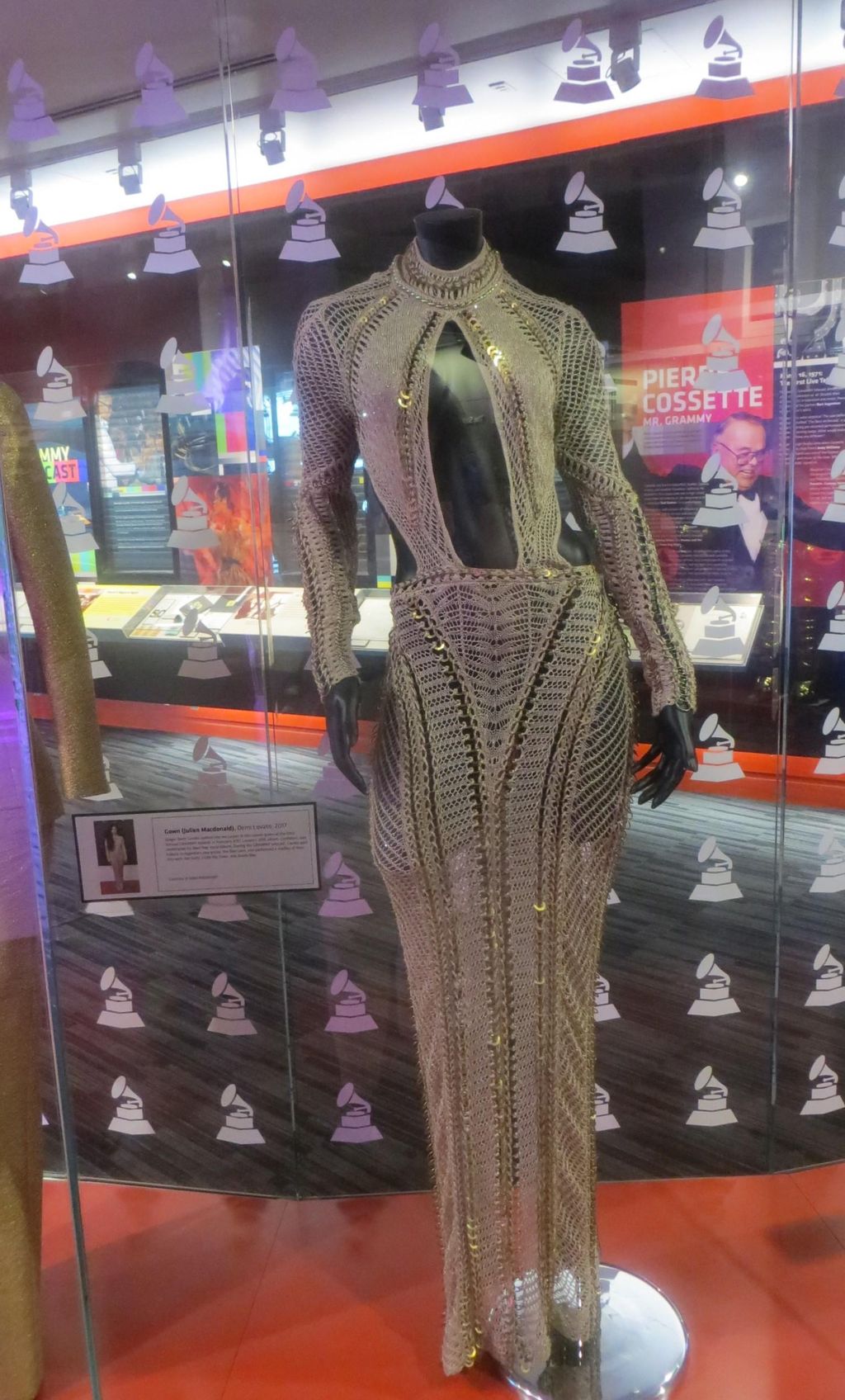 My favorite display in the museum was one with artists' more recent red carpet outfits, such as LL Cool J's suit, Alicia Keys' jumpsuit and my two favorites, Demi Lovato's 2017 red carpet gown and Gwen Stefani's 2016 Grammy bright red after-party dress.
*credit to owner for red carpet images of Demi Lovato, Gwen Stefani and Blake Shelton. Source: eonline.com (Demi Lovato) and popsugar.com (Gwen Stefani and Blake Shelton).*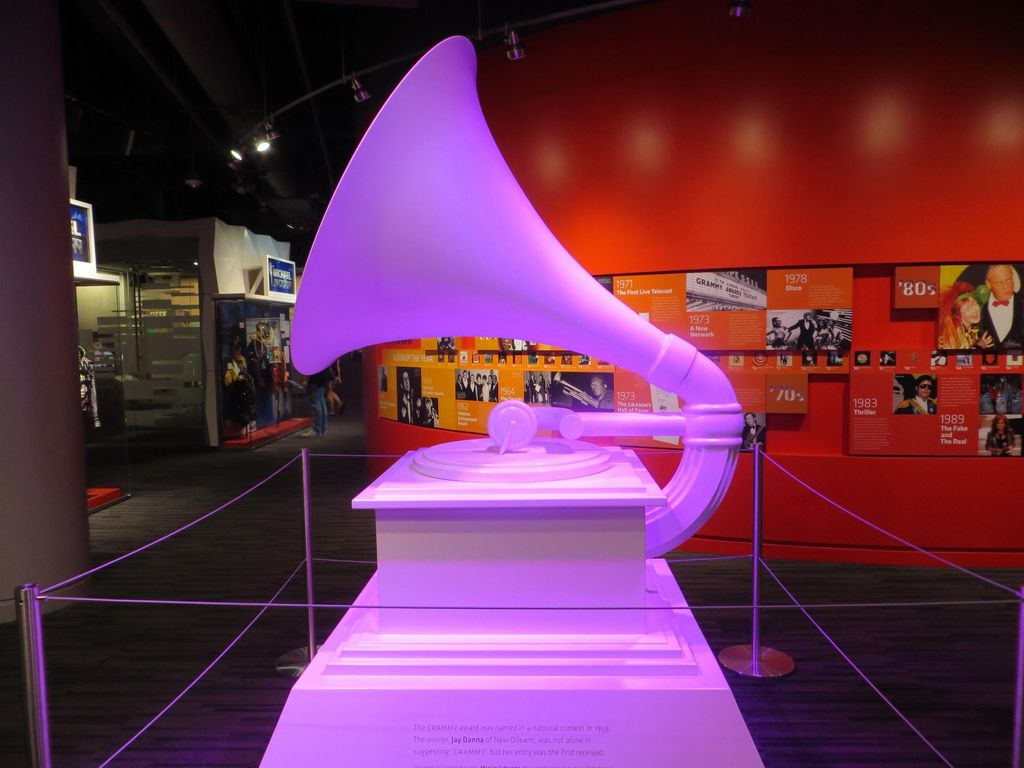 The centerpiece of this room was a giant replica of the Grammy Award with different colors being projected on it.
There was also an area to sit down and watch a compilation of pretty much every Grammy performance ever. I loved being able to watch all of the amazing performances and be reminded of all the musical talent of all genres memorialized in this museum.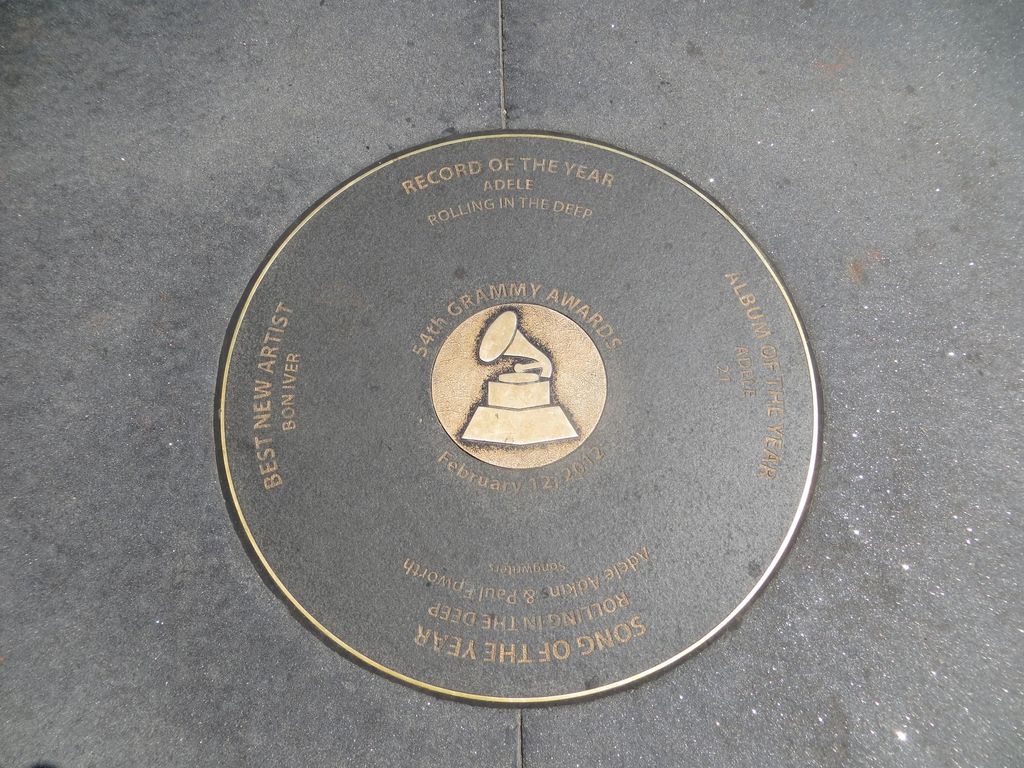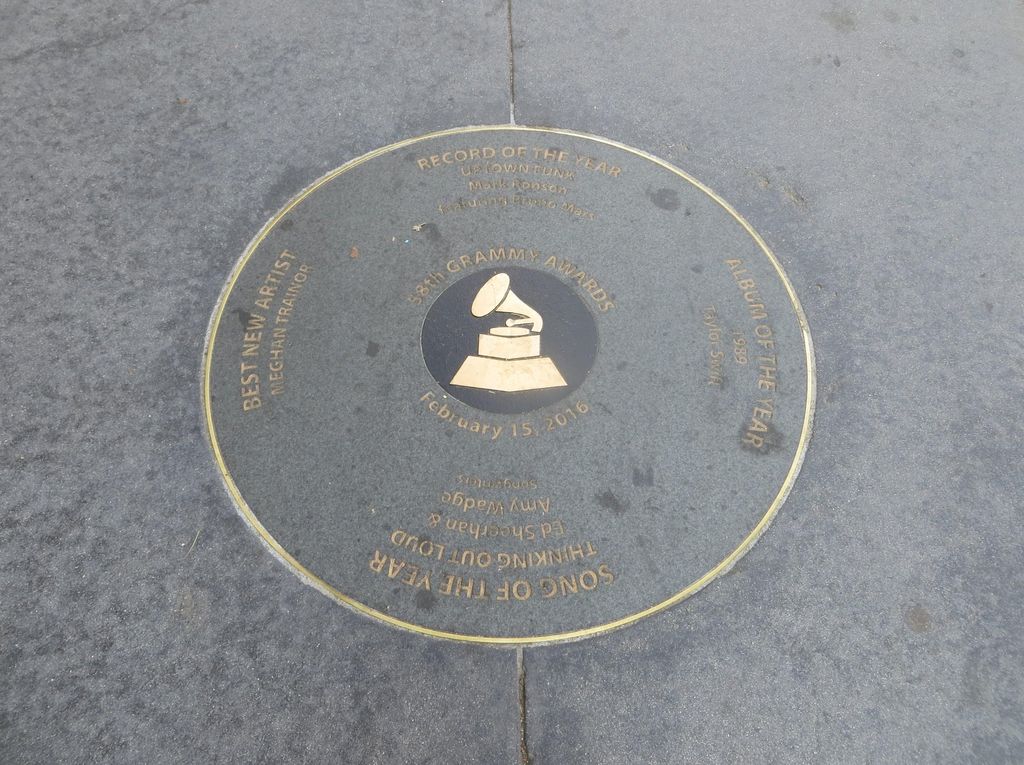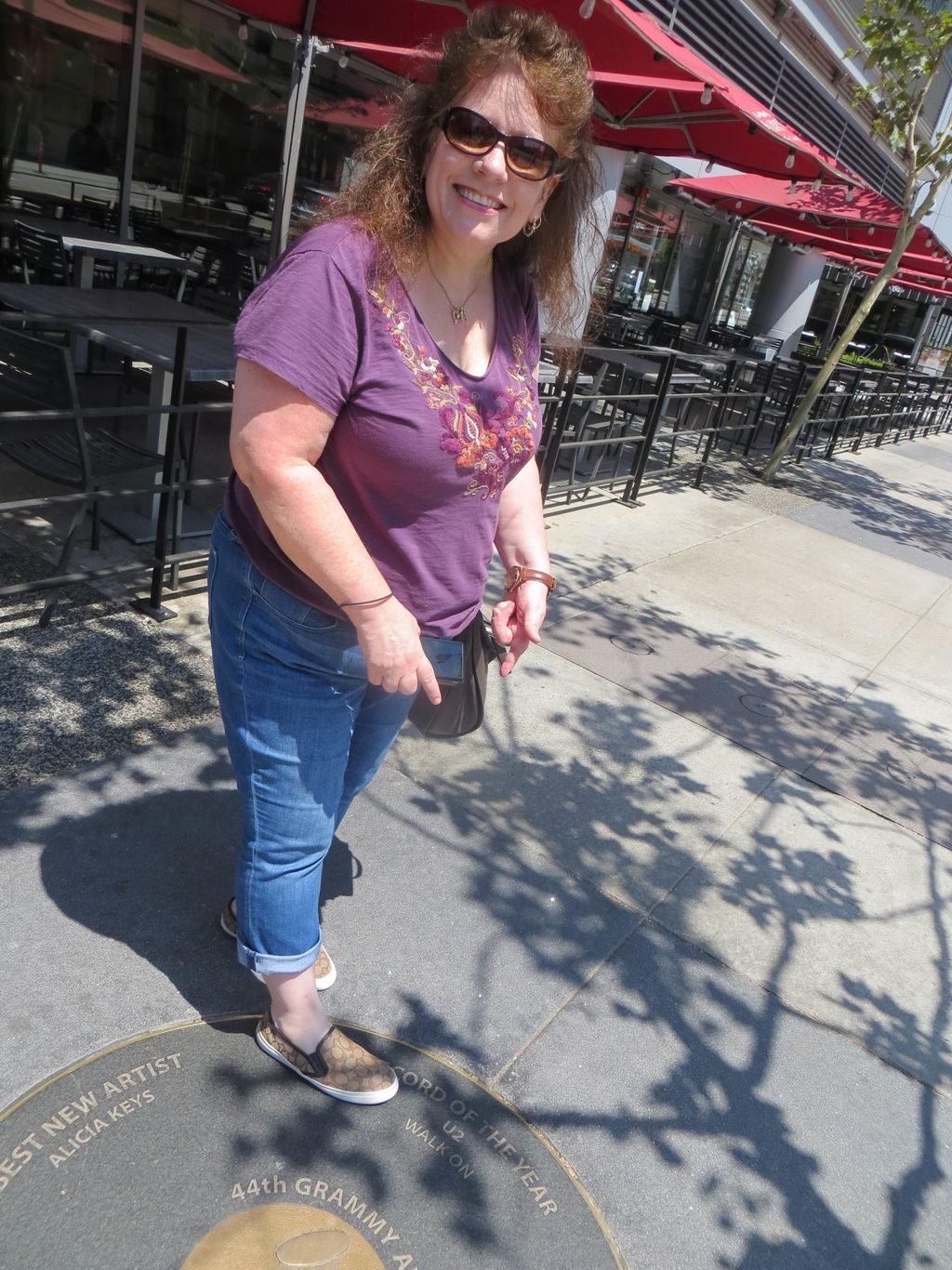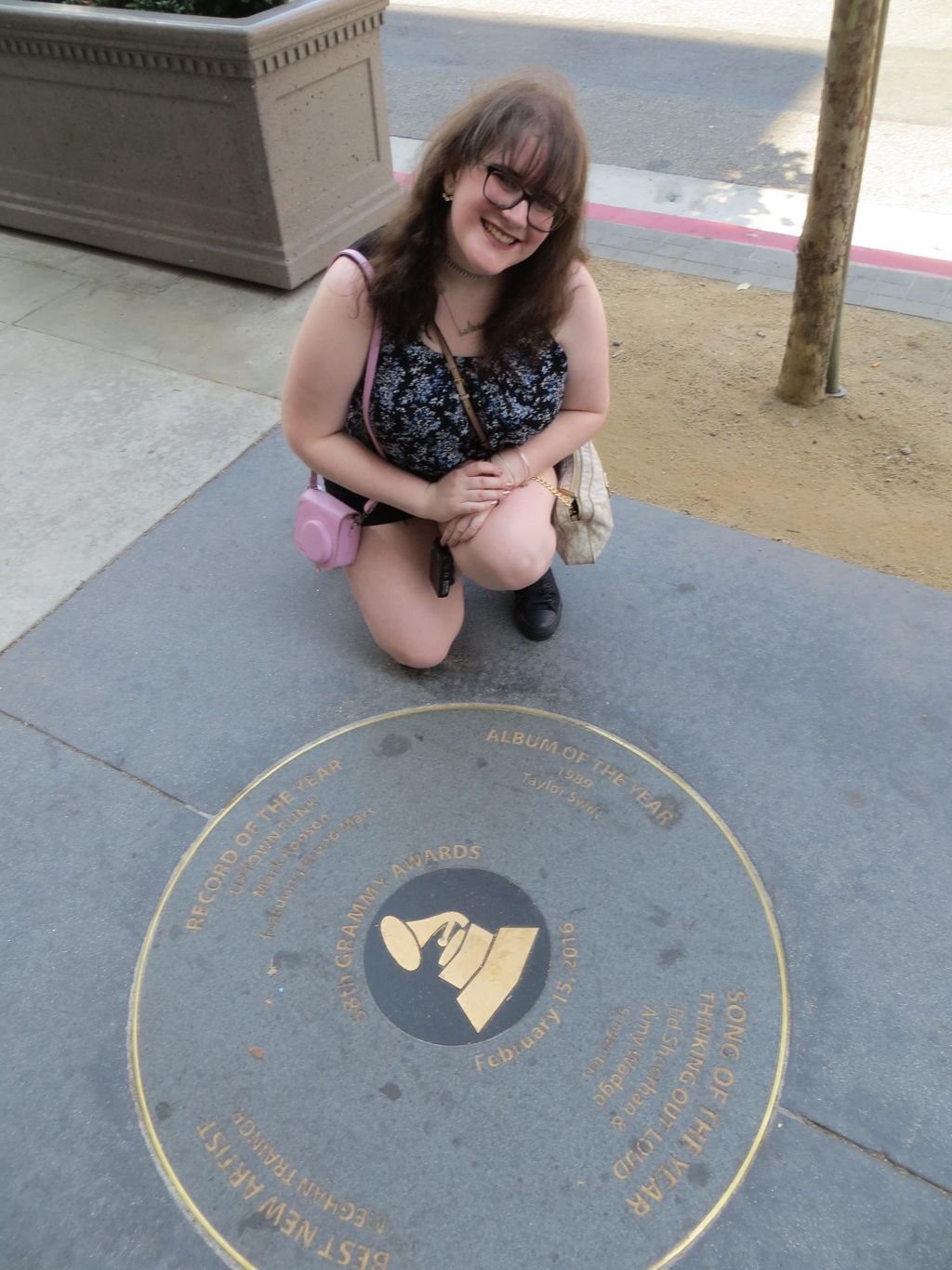 Outside of the museum, the sidewalks were lined with plaques to commemorate that year's winner for "Record of the Year", "Album of the Year", "Song of the Year" and "Best New Artist". The setup of these are very reminiscent of how the stars look on the Hollywood Walk of Fame on Hollywood Boulevard.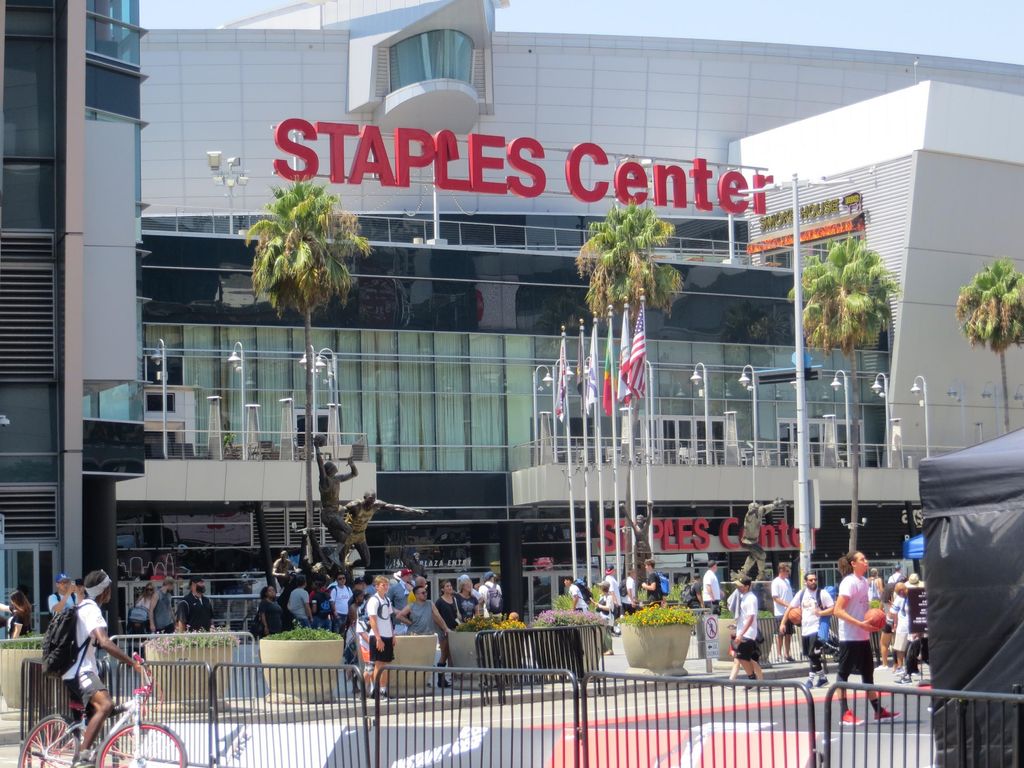 Next door to the Grammy Museum is the iconic arena, The Staples Center. I never saw a concert there, but it is definitely on my list of things to do there next trip!
I was originally going to write about my entire trip to Los Angeles in one post, but it would be way too long, so instead I am going to make a series of everywhere I went in LA. Come back soon for a post about seeing the Hollywood Sign for the first time and going to iconic TV filming locations!
-Melissa